Allyship is a life commitment
August 14, 2021
4.7K views
3 minute read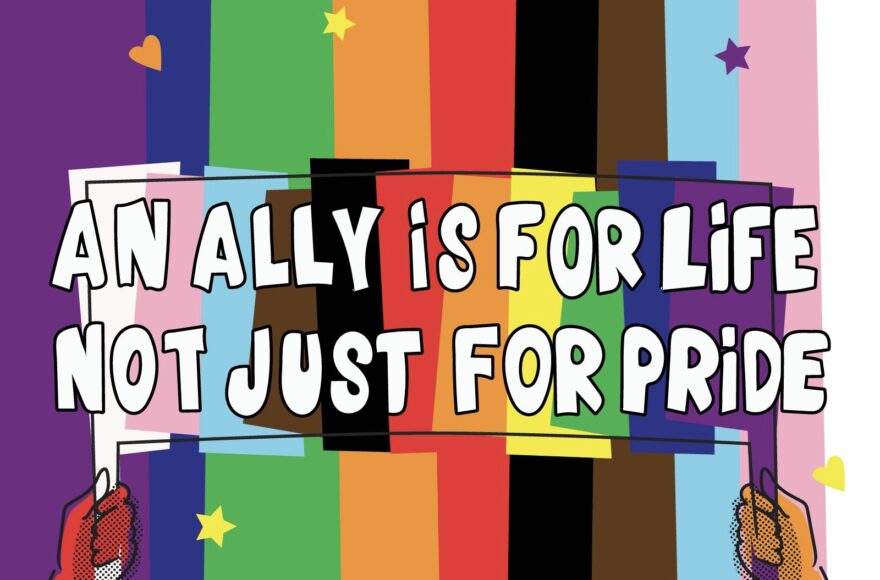 Allyship is a lifelong endeavor towards battling oppression, and it is a growing process that takes a lifetime to cultivate. Many allies have a hard time understanding this notion, as taking on the responsibility of allyship is a difficult task to accomplish.
It's not as simple as slapping a rainbow on something for a month and saying you support the community.
Allyship is a lifelong process of building relationships based on trust, consistency, and accountability with marginalized individuals and/or groups of people. It's not self-defined work and efforts must be recognized by those you are seeking to ally with while providing an opportunity to grow and learn about ourselves, whilst building confidence in others.
Everyone has the ability to be an ally as privilege is intersectional – white men or women can be actionable allies to people of color, men can be allies to women, cis people can be allies to members of the LGBTQI+ community, able-bodied people can be allies to those with different abilities, economically privileged people can be allies to those who are not and so on.
To be allies, words and action must be in sync.
Words without actions are detrimental and work against changing the culture in technology. To be a true ally, you should always lift others up by advocating, share growth opportunities with others, not view venting as a personal attack, Recognize systematic inequalities and realize impact of micro-aggressions, believe underrepresented people's experiences, and most importantly listen, support, self-reflect & change.
Allyship as a corporate
Throughout Pride month and beyond, workplace equality must be included in the conversation. At the same time, we are seeing a critique of rainbow marketing. If your workplace is to authentically show its support, you must center LGBTQ+ voices. Your company must also be intersectional and focus on those most vulnerable in the LGBTQ+ community.
By uplifting these voices, everyone benefits. Activities that benefit the community are a key pillar to this: Focus on charities and community groups that are already doing the work, as allyship is often about supporting a community to create change, not speaking over them.
Many platforms and spaces are already doing this effectively, and businesses that are taking the lead allow others to follow and look for resources that create space for your organization to deepen its knowledge on becoming an ally.
Businesses can also look inward to their LGBTQ+ employees. Speak to them and ask what they need. Start with the LGBTQ+ employee resource group. If there isn't one there already, perhaps think about how you could create one.
Looking internally also means analyzing your policies and language. Do you encourage people to share their pronouns in presentations and email signatures? Is your parental leave inclusive for same-sex and adoptive parents? Scrutinize your recruitment process and ask if this is truly inclusive.
Where you recruit from matters because if you are only looking in one place, the diversity of your talent pool is unlikely to change. Hiring diverse talent is only one step, though; you must make sure you have an inclusive culture where people can thrive. These may seem like business changes, unrelated to celebrating Pride. But Pride is not just a good time; it is about creating a more equal world and without equity in the workplace, this becomes impossible.
LGBTQ+ people are who they are all year round and encouraging a culture where you promote people to bring their whole self means people can focus on their work and not trying to hide their authentic self. Pride month is important, but true allyship happens every day, not just in February / march. How an organization celebrates Pride will matter to their current and future LGBTQ+ employees, but it is also only one part of how they must show up for equality every single day.